In its most simplistic form, the human-centered design process puts people first.
It focuses on employee's behavior, reasoning, and emotions. It is an approach that re-frames employees at the center of any given workplace process.
As a result, it makes work more pleasurable and processes less complex for employees.
Human-centered design is commonly used in problem-solving for products and services. However, it can also be applied to organizational functions to improve employee engagement.
This article covers the two key components of a human-centered organization, and the four things you can do to implement this in your company.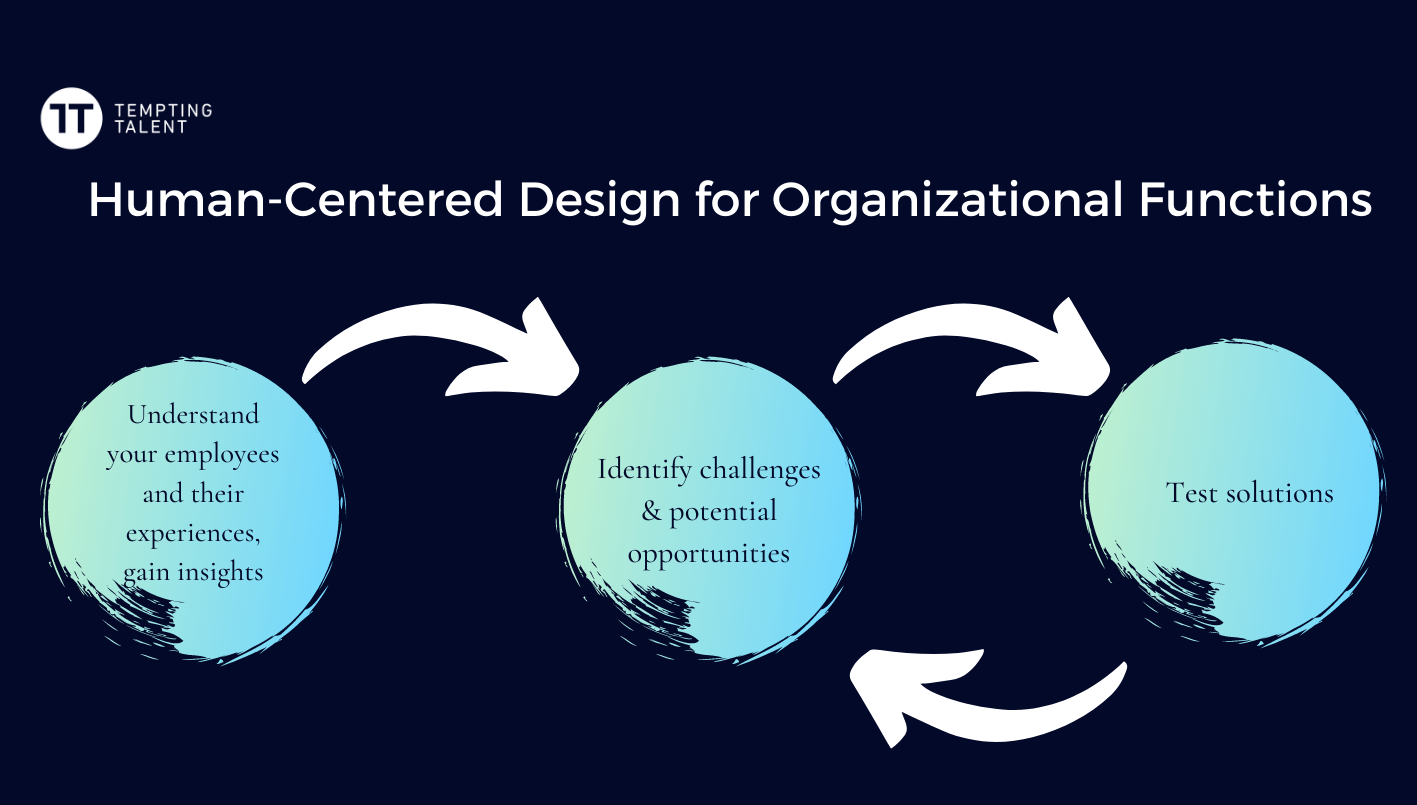 ​
The Journal of Emerging Technologies and Innovative Research did a study on human-centered design and employee engagement. Across 103 organizations, they found that implementing human-centered design in work processes is more effective at improving employee satisfaction and productivity than financial benefits like raises or bonuses.
Organizations in the top 25% for employee engagement see increased profitability of 16%, according to Taleo Research.
Human-centered design plays a significant role in employee productivity, satisfaction, and low turnover rates. As a result, organizations see considerable revenue increases.
So, where do you start? How do you improve employee engagement through human-centered design?
​
Road Map to Increased Employee Engagement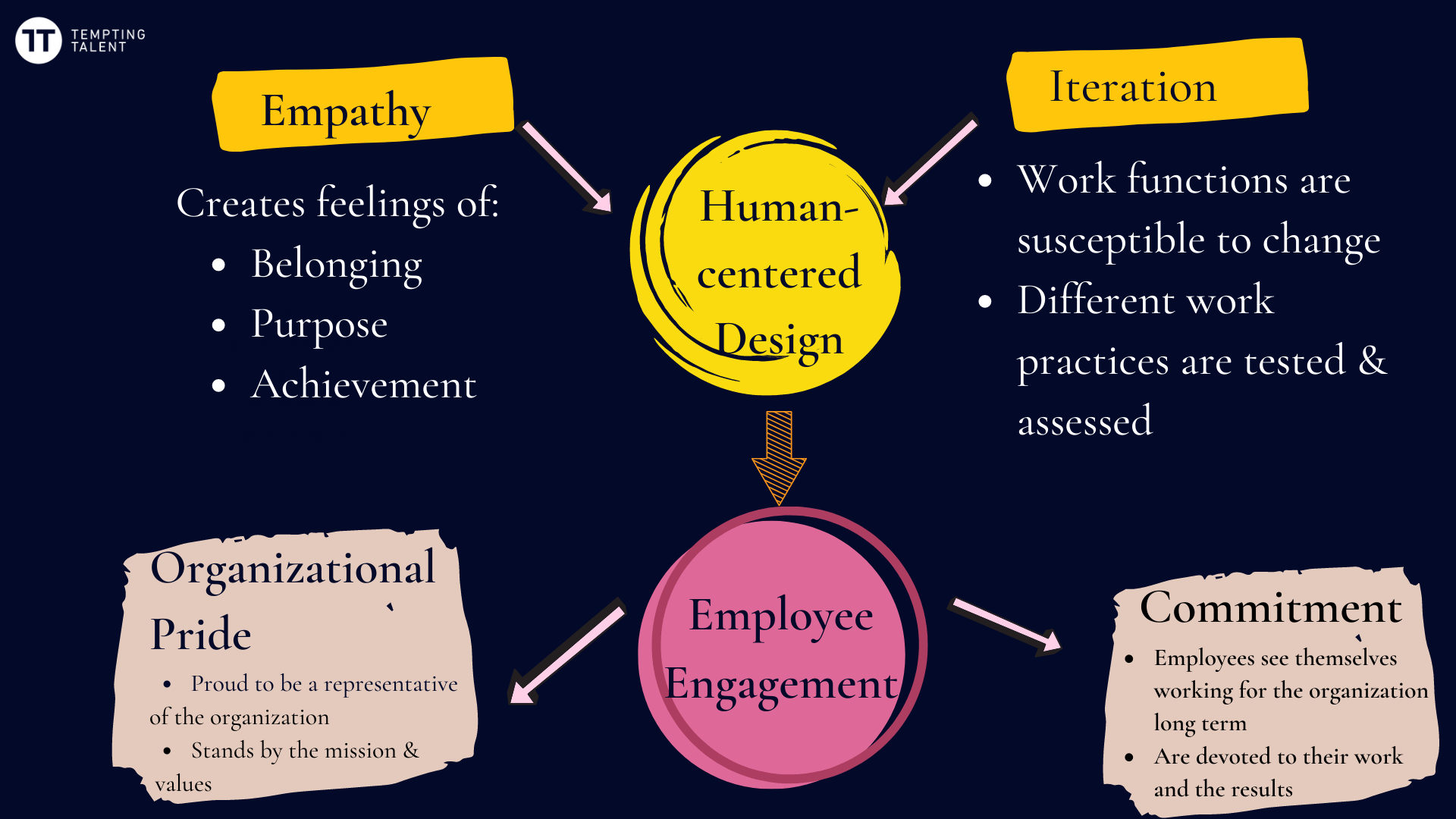 ​
There are two core key components in companies that successfully implement human-centered design:
Empathy - Creates positive feelings of belonging, purpose, and a sense of achievement. These feelings are what create the employee experience. Tailor your organizational functions around these core feelings. You will achieve a higher level of employee engagement by doing so. Your employees will be committed to the organization's vision and their jobs. They will also have a sense of accomplishment and pride around the organization.

Iteration - Work functions must be susceptible to iterations to address any factors that are affecting the efficiency and ease of a person's work. People and industries evolve. Organizations need to test different processes and methods of work. This will allow them to see what is the most successful within their organization.
​
4 Ways to Implement Human-Centered Design
The following four areas have proven to increases employee engagement through human-centered design:
1. Offering employees more choices and less restraint
Give your employees the power of choice at as many forks in the road as you can. This choice will empower them. Life is busy, and the traditional workforce is evolving. An example of human-centered choice would be allowing employees to choose flex hours or decide when they want to work from home or in office.
2. Facilitate and encourage the formation and development of relationships at work
People thrive off the human connection, allow your workplace to be a space where that is possible. If people get along, they will work better together. Have workplace gatherings, they can be remote or in small groups within the office. As a remote workforce, now more than ever, it is imperative to bring people together.
3. Well thought out design and ongoing assessment of employee's physical work environment
Ensure people are comfortable in their day to day set up, and that they have everything they need. If your employees are remote, assess there at home set up and see what else they need. Engagement drops when people are not comfortable in their physical environment. It decreases even more, when they must go out and get the things they need.
4. Assess the tools and processes that employees interact with during their day-to-day jobs
Start by breaking down each process and meeting agenda. Are there things affecting your employee's day-to-day work? Re-frame these processes and meetings around their behaviors and reasoning. Involve your employees in process planning; they will be able to speak best to what is working and what is not.
​
How to Assess your Employee's Engagement
Complete this form to receive the Employee Engagement Survey.
​
​
​
​
What's Next?
It is time to improve your organization's employee engagement through human-centered design. Remember, human-centered design is as much a mindset as it is a process. Be empathetic, tap into your employee's behaviors and reasoning. You may put in place solutions or processes that do not fit the right way, iterate, innovate, and test. You will see an improvement in employee engagement and an increase in your revenue at the end of the day.
​